Barrier Stand Crowd Control/Metal Barricade/Traffic Barrier

Long, Premium Barricade
One of the most reliable barricades on the market, the 8.5 Foot Heavy Duty Steel Barricade is made from marine grade, hot-dipped galvanized steel. At 8.5 feet long, these barricades will cover more ground than most other barricades on the market. The premium hot dipped galvanized coating and 16 gauge steel make it the ideal barricade for any weather condition. With its simple interlocking design, the 8.5 Foot Heavy Duty Steel Barricade can easily be hooked to another to create a long, continuous line of protection. All 8.5 Foot Heavy Duty Steel Barricades come with removable feet that can be customized to fit a variety of landscapes and flooring types.

Strength & Durability
The hot-dipped galvanized steel creates a comprehensive rust-proof seal, helping increase longevity and decrease corrosion. The barricades are hot dipped galvanized after construction and welding to fully weatherproof the entire barricade. Each barricade measures 8.5 feet long and weighs 44 pounds - all made from solid 16 gauge steel. The main frame is composed of 1.5 inch diameter steel tube and contains 21 upright barricade bars to provide adequate protection and security.
Simple Interlocking Design
All 8.5 Foot Heavy Duty Steel Barricades can link together to block off large sections or specific areas. Through a simple hook and loop design, each of the two hooks on the right side of the 8.5 Foot Heavy Duty Steel Barricade will drop directly into the two loops on the left side of the proceeding barricade. When the barricades are locked together, they can only be unhooked from the ends to help with stability and security.
Interchangeable Feet
The 8.5 Foot Heavy Duty Steel Barricade is available in two different feet options: Bridge Feet or Flat Feet. Bridge Feet are typically used on uneven surfaces such as grass, gravel and slight hills or inclines; Flat Feet are ideal for flat surfaces such as concrete and are designed to minimize tripping hazards. To create a more permanent fixture, the Flat Feet can also be bolted to the ground.
Product Benefits
Long-lasting, hot-dipped galvanized finish
Long length and heavy build for maximum protection
Interchangeable feet options
Easy interlocking design; compatible with other barricades
Compatible with other barricades
Traffic Management
Stadiums
Public Events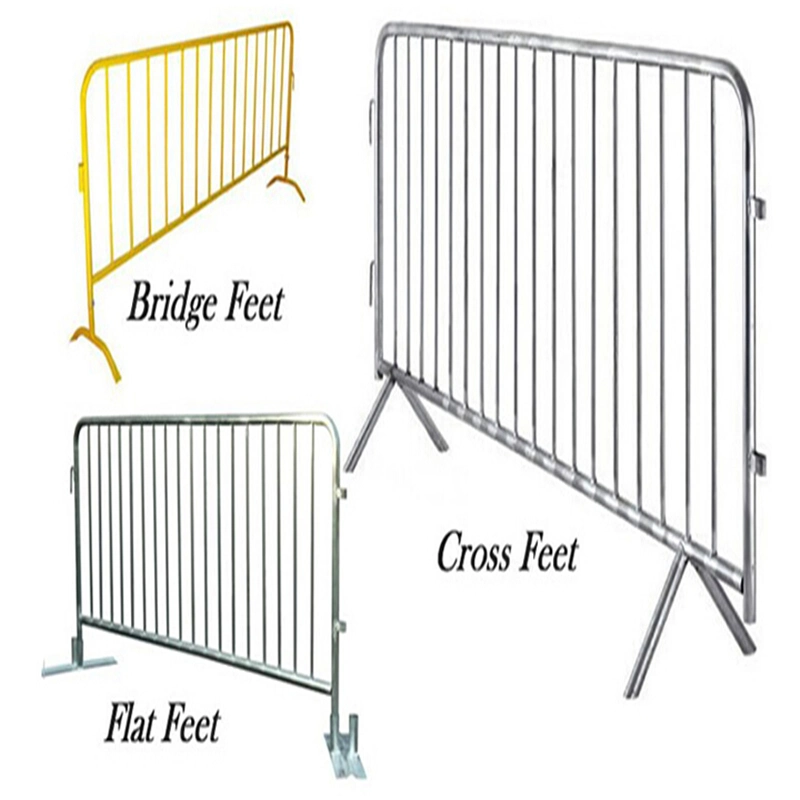 Technical Specifications
| | |
| --- | --- |
| Height | 44" |
| Length | 8'6" |
| Width | 26 3/4" (bridge feet); 26" (flat feet) |
| Weight | 44 pounds |
| Outer Tube Diameter | 1 ½" |
| Inner Tube Diameter | ½" |
| Feet Style | Bridge & Flat |
| Material | Hot-Dipped Galvanized Steel |