Roadside barriers have been developed over the years to safely redirect vehicles that leave the roadway. Many different rigid, semi-rigid and flexible designs for roadside barriers have been evolved. The most common system consist of a steel w-beam rail supported on steel posts with end treatments and transitions of various designs using similar materials, that's our guardrail, it can be hot dip galvanized or sprayed.

Our guardrails are designed in pursuance to the principle of keeping the vehicle inside the road in a secure way and at the same time minimizing the loss of life and property in case of an accident.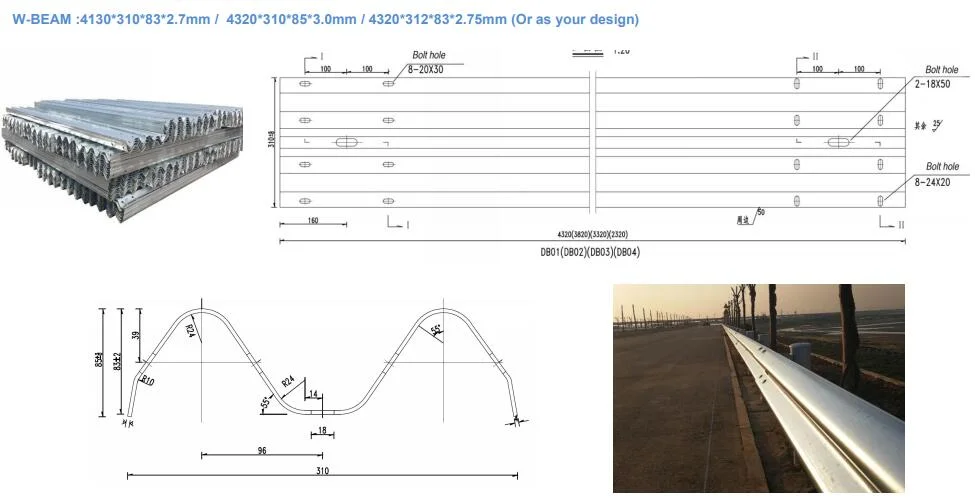 Guardrail Specification
| | |
| --- | --- |
| W-Beam | 2320/3320/4128/4130/4318/4320/7938*308/310/311/312/315*2.5/2.6/2.67/2.7/2.75/2.76*2.8/3/4/5/10 |
| Surface Treatment | Hot Dip Galvanized or Powder Coated |
| Galvanizing Thickness | 300g/m2 (40µ), 550g/m2 (80µ) or 610g/m2 (85µ) or 1100 g/m2 (160µ) or 1220 g/m2 (170µ) or customized |
| Certificate | AASHTO, AS/NZS, EN, ISO9001, ISO14000, SGS, CE, BV |
| Feature | Great corrosion resistant, high intensity, long and durable, low cost, higher security, environmental protection, etc. |
| Other | Other special specification as per client's requirement or drawings. |
Guardrail Popular Applications:
1. Road/Expressway/Highway Guardrails.
2. Roadway guard rails crash barriers;
3. Roadway crash barriers;
4. Service roads;Car parking lot guardrails;
5. Car parking guardrails;
6. Warehouses;
7. Distribution depots;
8. Industrial barriers;
9. Pedestrian areas;
10. Bridge guardrail.
We manufacture highway guardrails according to the Standards as below:



Our Production Process for Galvanized Guardrail: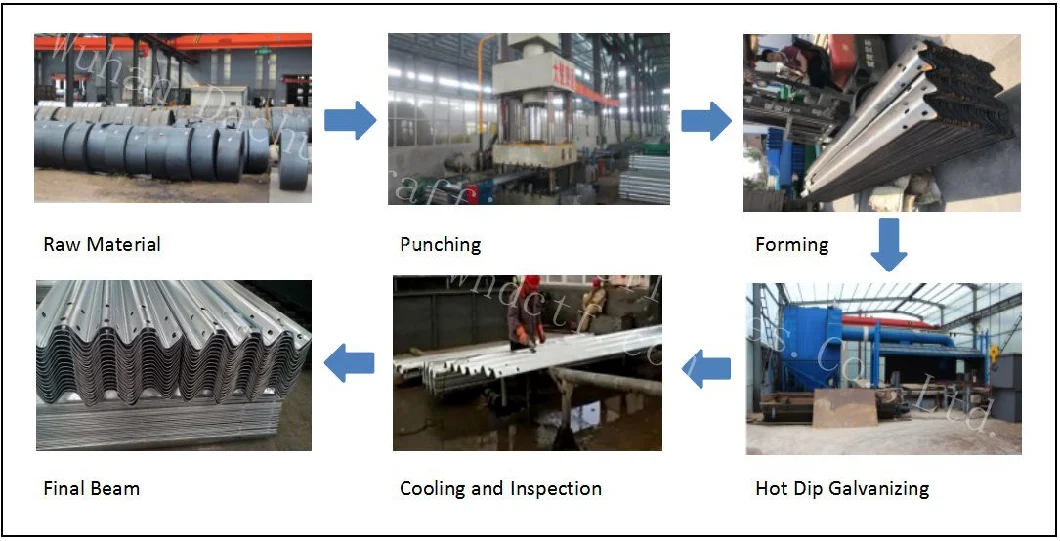 Our Production Process for Sprayed Guardrail: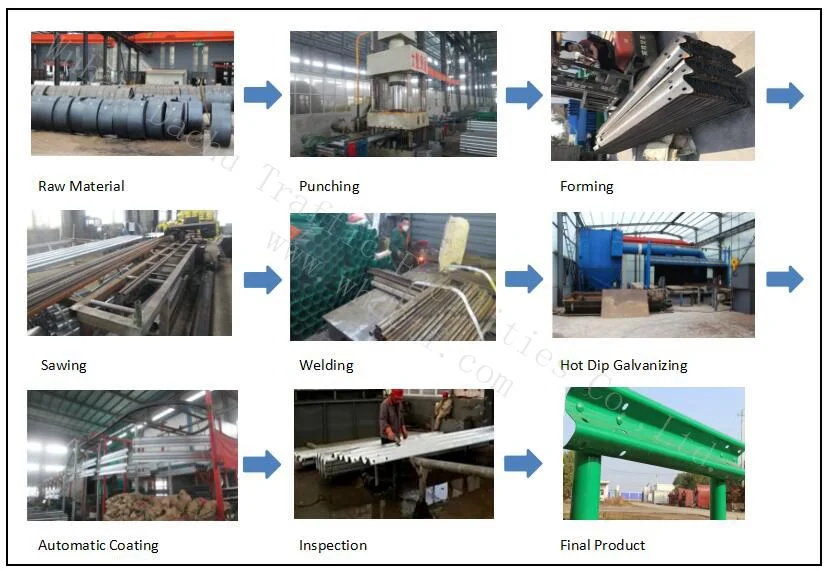 Our guardrails: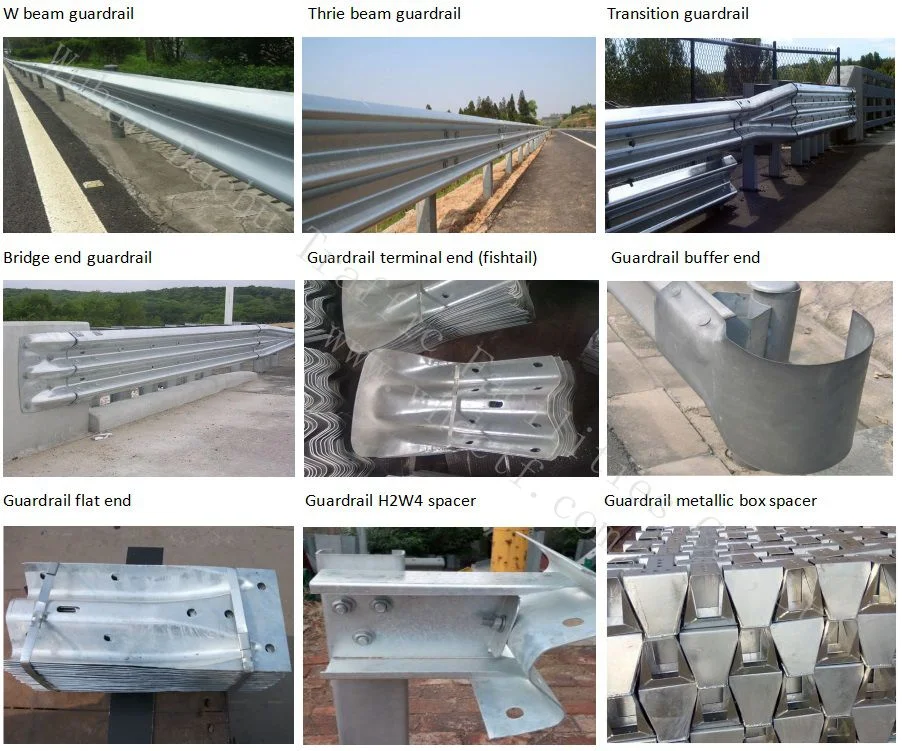 Guardrail Posts: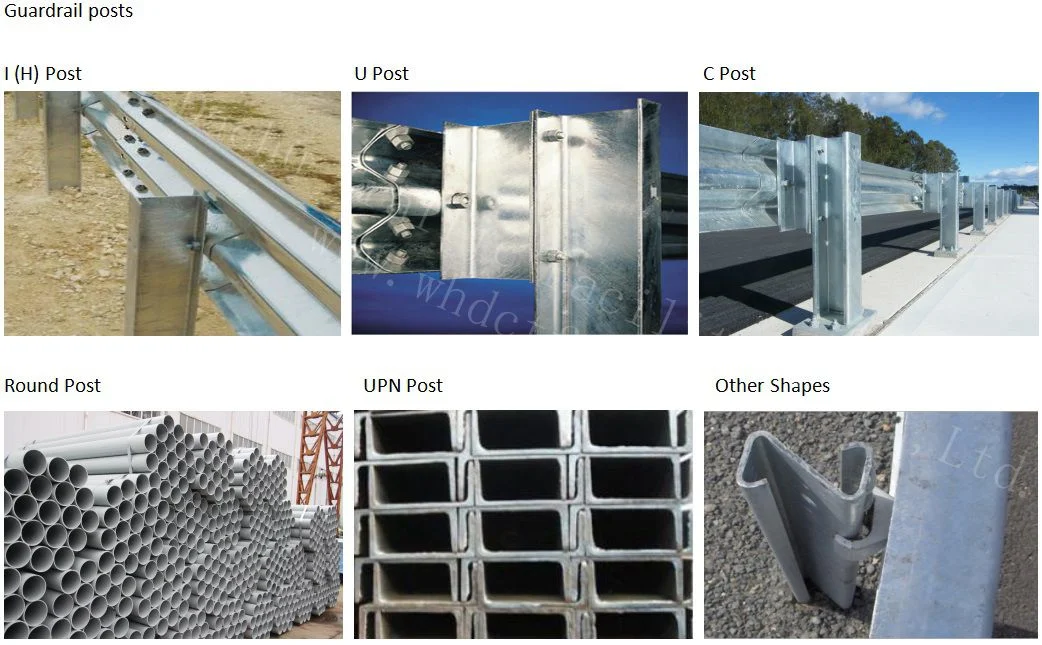 Guardrail Installation Steps:
Step 1. Site Preparation
Step 2. Driving the Posts
Step 3. Joining the W-Beam Guardrail Panels
Step 4. Connecting the W-Beam Guardrail Panels to the Posts
Step 5. Repeat Steps 2, 3 and 4
Step 6. Delineation (if required)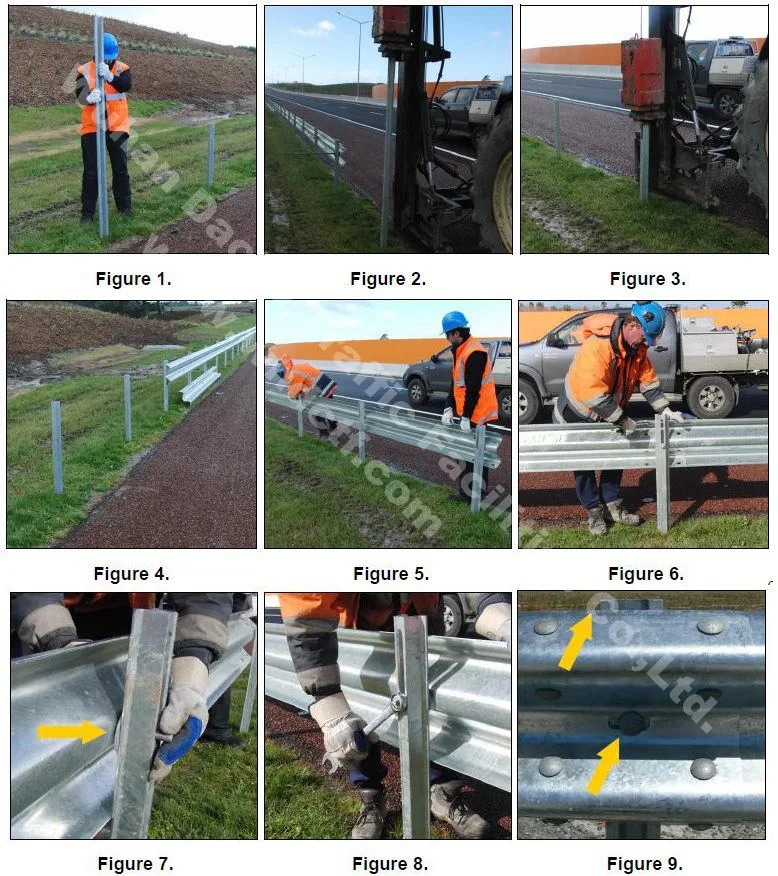 How to inquire and place guardrail order to us ?

Step 1: Send us inquiry at made-in-china, or send us email or call us at 0086-13517190016

Step 2: Provide your specification and quantity to us, or we could offer our guardrail product list for your reference to choose

Step 3: We will made detailed quotation as soon as we received your specification and quantity

Step 4: Samples can be arranged if needed, the sample is free to you, you just need to bear the postage fee

Step 5: Factory visit if possible, you will be warmly welcomed

Step 6: Confirm the order, we will arrange the production as soon as the advance payment is received

Step 7: Confirm the delivery time, balance payment need to be arranged before the goods is dispatched

Step 8: You could contact us for any questions even after sales.

Contact us today for an estimate. You are the most welcome to visit our production premises.

Wuhan Dachu Traffic Facilities Co.,Ltd.
(Company Code: 91420114303720312K; Trade Licence Code: 03027006; Customs Code: 420196619D )